Wallis and Futuna: Royal dispute sees palace occupied in French territory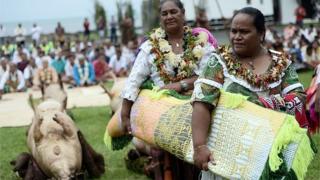 Dozens of people are occupying the royal palace building on the French Pacific territory of Wallis and Futuna, the public broadcaster has said.
The protestors are trying to prevent the enthronement of a new king, due to take place this Saturday.
Last weekend, the Wallis Island chiefs chose Tominiko Halagahu, 57, to be the new Lavelua, or king.
But some from rival royal families have refused to recognise the appointment, saying they should choose the king.
Where is Wallis and Futuna?
Wallis and Futuna is a group of islands in the South Pacific Ocean, between Samoa and Fiji.
Culturally Polynesian, in 1961 it became an overseas prefecture of France.
There are three traditional kingdoms in the territory, all of which have a degree of political power.
In recent months, the two kingdoms of Sigave and Alo both chose new kings, according to Radio New Zealand.
How is the king chosen?
The title is not hereditary, but given to a person chosen from a group of royal families.
The discussions on who to crown can take months of even years, according to TV France. The secession issue is often fraught, Radio New Zealand's Walter Zweifel who covers the Pacific Islands, told the BBC.
The current dispute is over the monarch of the kingdom of Uvea on Wallis Island.
It seems to have arisen because the chiefs named Tominiko Halagahu as king. But other royal families believe that should be their decision, and the chiefs should just carry out the coronation.
Has something like this ever happened before?
Long-serving monarch Tomasi Kulimoetoke ruled as Lavelua from 1959 until his death in 2007 at the age of 88.
Two years before his death, rival clans tried to remove him, which led to an armed rebellion by his supporters. A French negotiator went to the island, but the eventual result was the Tomasi Kulimoetoke stayed on as king, FranceTV said.
Since his death the legitimacy of kings and their political power has been in upheaval.
Kapeliele Faupala was crowned in 2008, but in 2014 he was removed by powerful families because of his political intervention - namely sacking two prime ministers, according to local reports. The position has been vacant since.
The French prefect that administers Wallis and Futuna told local media it would not interfere in the latest dispute, although security forces have been beefed up on the island from nearby New Caledonia, TV France reported.