Taipei Zoo releases panda 'proof of life' photo after death rumours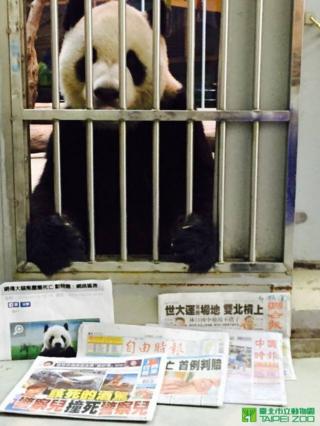 Taipei Zoo in Taiwan has released a photo of its resident panda posing in front of daily newspapers to counter premature reports of its death.
Chinese media outlets reported on Monday that Tuan Tuan, one of two pandas given to Taiwan by mainland China in 2008, had died from distemper.
The zoo snapped a photo of Tuan Tuan behind bars but in front of Monday's newspapers and put it on Facebook.
It told people not to worry, and warned them not to listen to internet rumours.
Tuan Tuan's partner Yuan Yuan and their cub were also fine, said the zoo.
Tuan Tuan's name means "unity" or "reunion".
His arrival in Taiwan was seen at the time either as a sign of warming relations or of Chinese assertion of control over Taiwan, which it considers a breakaway province.
Chinese media sites which had repeated the death rumours have since apologised.
They included the Communist Party mouthpiece People's Daily - it said it had been "misinformed".