Bangladesh factory boy's killing: Police arrest official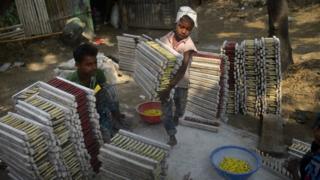 An official working at a spinning mill in Bangladesh where a boy was allegedly killed on Sunday has been arrested, police say.
The 10-year-old boy died in hospital after workers inserted a high-pressure nozzle into his rectum and activated it, local media report.
Police are questioning workers and factory staff after Sagar Barman's parents filed a police complaint, an officer in Narayanganj told BBC Bangla.
It remains unclear why he was attacked.
Last year, a 13-year-old boy was killed in the same way in a vehicle workshop in another part of the country.
Two men were sentenced to death over the case, which sparked large protests.
Bangladesh boy killings: Six sentenced to death
Rakib Hawlader died in August last year after air was pumped into his body in retaliation for leaving his job.
His death followed the killing of another teenager, Samiul Alam Rajon, who was beaten to death by a mob after allegedly stealing a bicycle.
Four men were sentenced to death over that killing.
Child labour is common in Bangladesh, with many children working in garment factories, often in harsh conditions.