Myanmar jails foreign journalists for flying drone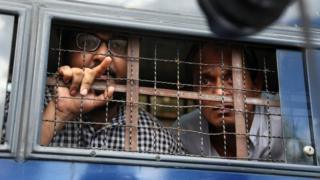 Myanmar has jailed two foreign journalists for two months for flying a drone near the country's parliament.
Cameraman Lau Hon Meng from Singapore and reporter Mok Choy Lin of Malaysia were detained in October while filming a documentary for Turkish TV.
Their driver, Hla Tin, and interpreter, Aung Naing Soe, both from Myanmar, were also jailed.
Myanmar-Turkey relations are already strained over comments made by Turkey's president on the Rohingya crisis.
Recep Tayyip Erdogan has accused the Myanmar authorities of carrying out genocide against the ethnic minority.
The men were first investigated for breaching rules on importing banned goods without a licence, an offence that could lead to a three year jail term.
But the judge instead opted for a fresh charge of violating aircraft laws, which carries up to a three month sentence.
The two men pleaded guilty to the lesser charge, but a new hearing is scheduled for 16 November, to determine whether all four will face the charges of import-export rule violation.
"The detainees admitted that they committed the crime, hoping they would only be fined, so it shocked us when the judge sentenced them to two months," said defence lawyer Khin Maung Zaw, according to Reuters.
The Turkish broadcasting station, TRT World, said that Myanmar authorities had been informed about the planned filming activities and the schedule.
"Our crew wanted to film the parliament building in the capital with a drone, after conducting an interview with a member of parliament. They were detained by security officials before flying the drone" TRT said in a statement.