China morning round-up: Hu Jintao's local poll vote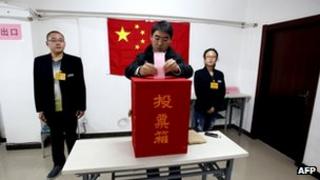 The national newspapers in China are paying much attention to the local People's Congress election in the capital Beijing.
Incumbent and former state leaders, including President Hu Jintao and former President Jiang Zemin, have all cast their vote themselves or by proxy on Tuesday, according to reports on People's Daily and China Daily.
But Hong Kong's Ming Pao Daily News reports that some "independent candidates" have been harassed by local police.
Voters in China's local elections are allowed to cast their vote for their own candidate by writing its name under the official lists of candidates on the ballot paper.
Also in the capital, the city government has reportedly carried out some measures to address recent criticism on how it monitors air quality, and let people know what it is like.
The capital's Environmental Protection Bureau hosted its first open house tour of seven people, "in the hope of giving them a better understanding of how air-quality data is collected and analysed", says China Daily.
The environment bureau has been under heavy pressure to improve its way to measure air quality as more and more Beijing residents have begun to worry about their health.
A recent outburst by a top official from the bureau against the US embassy's action to publish its own readings has attracted much attention on the web.
Meanwhile, Guangdong Province's Communist Party secretary Wang Yang has ordered a province-wide check-up on medical safety in hospitals after a newborn baby in Foshan City was treated as still-born and "thrown away", says the Southern Metropolis Daily.
And in Hong Kong, police are puzzled by two cases from this week in which nearly 10,000 bottles of wine in total have been left unattended on the pavements.
Quoting a police spokesperson, South China Morning Post suggests that these low-cost red wine from France, Chile and Argentina are believed to be genuine.
Ming Pao Daily News says the possible owners might have found no way to sell the stock after a few recent wine fairs in the city, and hence were left with no choice but to dump them.