China morning round-up: 'Faulty' bullet trains return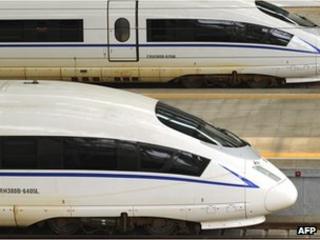 More reports have emerged in China's national media that the recalled high-speed trains are expected to return to service.
In a statement, the Railway Ministry said the CRH380BL bullet trains - 54 of them in total - would be put back on to the Beijing-Shanghai rail link from Wednesday, reports the China Daily.
The trains were permitted to run again "since they are deemed qualified after being tested, assessed by an independent party and approved by experts", the statement said.
Built by China CNR - a state-owned train manufacturer - based on technologies from the German firm Siemens, the trains had been recalled in August, weeks after a fatal rapid train collision in Wenzhou.
Citing an unnamed source from the local railway bureau, Shanghai Morning Post reports that the trains could help to relieve pressures during "Chunyun" - the annual massive migration before and after the Chinese New Year.
President Hu Jintao's activities at the Apec summit are still occupying front pages of national newspapers. And coverage has also been given to the second docking of Shenzhou VIII and Tiangong-1 spacecraft.
The Global Times picks up local media report from Beijing suggesting college graduates from reputable universities in the capital are selling their eggs to infertile women.
A "donor" can earn as much as 30,000 yuan ($4,722; £2,971) in each transactions. Such practice is illegal in China.
In Hong Kong, a discussion on whether parents should be allowed to access a voluntary sex offenders registry system is heating up, reports The Standard, Ming Pao Daily News and other papers.
At the same time, the South China Morning Post warns that Hong Kong's stock exchange is threatened as the Shanghai exchange has reportedly said that it was "basically ready" to allow foreign companies to list.