China's CNPC oil chief rebuked for Dalian spill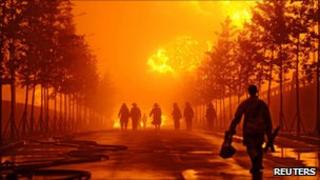 The head of China's state-run CNPC oil firm has been censured over last year's spill off the city of Dalian, one of the worst in the country's history.
China's cabinet said the company had not done enough to ensure safety at the plant, where two pipelines exploded last July and caused the leak.
Chairman Jiang Jiemin was given a disciplinary warning - a rare move for such a senior figure.
Fourteen people are to face criminal charges over the incident.
And some 28 other senior officials of CNPC and its subsidiary PetroChina, which operates the Dalian facility, were handed disciplinary punishments.
State media reported that the punishments meted out to Mr Jiang and the other executives amounted to "demerit" marks, which could affect future promotions and benefits.
CNPC confirmed Mr Jiang's punishment in a statement quoted by Bloomberg news group on Friday.
Two pipelines exploded last July at a storage depot, resulting in a fierce fire and later a large oil leak.
A slick spread hundreds of miles around China's north-east coast.
The authorities deployed oil-eating bacteria and oil-skimming vessels to remove the slick.
The government said 1,500 tonnes of oil spewed into the sea, but environmental group Greenpeace estimated the leak at up to 60,000 tonnes.
State news agency Xinhua said the accident caused a direct economic loss of 223m yuan (£23m; $35).