Ex-wife awarded $154m in Hong Kong payout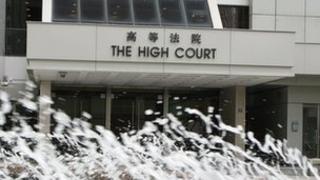 A Hong Kong court has ordered a property tycoon to pay his wife more than $150m in one of the territory's biggest divorce payouts.
The High Court ordered Samathur Li to pay Florence Tsang, a 38-year-old solicitor, HK$1.2bn ($154m; £98m) as a settlement.
Items in the package include valuable real estate and club membership fees in Hong Kong and London.
The divorcee said she was delighted with the ruling.
Ms Tsang had sought an award of HK$6.4bn ($823m; £525m), which is more than half the assets she used to share with Mr Li.
Local media reports suggest that the payout amounted to 20% of shared assets.
The package also included fees to buy three luxury cars and a yacht.
The Standard, a local newspaper, said that Thursday's ruling further sealed "Hong Kong's reputation as Asia's divorce capital".
In his verdict, Justice John Saunders ruled that Ms Tsang was entitled to maintain the lifestyle to which she had become accustomed.