China morning round-up: WTO membership marked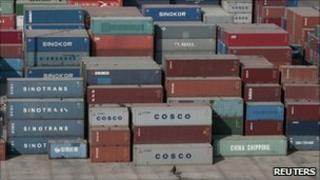 As China gears up to celebrate 10 years since it joined the World Trade Organization (WTO), Beijing says it has met all the pledges it made.
Thursday's People's Daily says China has opened up markets in manufacturing, agriculture and service industries, citing a White Paper released by the State Council.
The newspaper's Overseas Edition claims further that China has become a country with significant contribution to the wider world.
Meanwhile, papers including the China Daily also report on the comment by Wang Shouwen, foreign trade head at the Ministry of Commerce, which warns that China's foreign trade "is facing a severe situation next year".
On national politics, China Daily and People's Daily carry reports on the latest State Council meeting where a blueprint on boosting the country's drug safety over the next five years has been approved.
Meanwhile, Japan's recall of Meiji baby formula because of pollution by a radioactive substance has also raised a lot of concern.
Guangzhou's Southern Metropolis Daily says parents have been questioning why Meiji refuse to recall the same products in China, while 21st Century Business Herald suggests that the problem could actually lie on "parallel traded" stocks.
Citing comments from the General Administration of Quality Supervision, Inspection and Quarantine (AQSIQ), Beijing News says the Meiji stocks on sale in China through official retail channels were imported from the firm's Australian factories, while China's ban on baby milk made in Japan is still in place.
Although there is not yet a recall in China, major online shopping platform Taobao has blocked Meiji baby formula from its search results, reports the China Daily.
Also on Thursday's China Daily is the news that Bill Gates - co-founder of Microsoft - has confirmed that a company he helped found is co-operating on the development of a new type of nuclear reactor in China.
And in Hong Kong, Ming Pao Daily News and others report on some further arrests on the ongoing vote-rigging scandal, while South China Morning Post and Singtao Daily also report that Sir Run Run Shaw - Hong Kong's TV tycoon - is finally stepping down at the age of 104.
Sir Run Run co-founded Television Broadcasting Limited (TVB), which has footprints in Hong Kong and Taiwan, as well as Chinese communities in South East Asia, Europe and North America.