Hundreds of workers strike at Shenzhen factory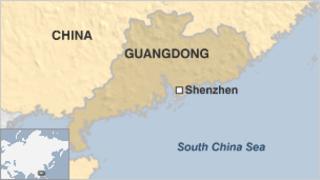 Nearly 1,000 workers are striking for a fifth day in the southern Chinese city of Shenzhen, fearing a factory sell-off deal could hit their pay.
Workers say benefits could be compromised if Japan's Hitachi Global Storage Technologies goes through with a proposed sale to a US firm.
They have been blocking the entrance to the factory and calling on managers to respect their rights.
A staff member at the factory said that negotiations with workers were ongoing.
Workers fear the sale would require the signing of a new employment contract which could eliminate benefits linked to length of service, reports state-run Xinhua News Agency.
In recent weeks, China has seen industrial disputes in a number of cities across the country.
Last month, workers from at least five PepsiCo bottling factories protested against a takeover deal by Taiwan's Tingyi.
And workers at a Singaporean-run factory in Shanghai have been on strike this week, fearing a relocation would trigger mass lay-offs.