China morning round-up: Hu Jintao vows open market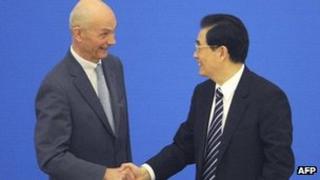 President Hu Jintao's speech promising to open up the Chinese market to outside investment is the focus of most newspapers.
Mr Hu made the vow at a conference in Beijing marking the 10th anniversary since the country joined the World Trade Organization (WTO).
"China will follow a more active opening-up strategy," said Mr Hu, quoted by the China Daily, People's Daily and others, as both papers run pages of special coverage praising China's contribution to the world since joining the WTO 10 years ago.
Shi Guangsheng, who was trade minister back then, gave an interview to Guangzhou's 21st Century Business Herald recalling China's path to joining the WTO.
Most papers also pay much attention to the conclusion of UN climate talks in Durban, with China's comments on the final deal being played up.
Papers including Beijing News describe the final deal as "an imperfect milestone", while chief Chinese negotiator Xie Zhenhua's rant on Western countries also features heavily in Shanghai Morning Post and others.
Debates on school-bus safety also heat up again as Beijing has launched public consultation on a draft legislation. Features of the draft law have been listed out on papers such as China Daily and Southern Metropolis Daily.
Editorials and commentaries from China Youth Daily, Southern Metropolis Daily and Beijing News either call for financial support from the government to ensure a safe school bus system, or to plan school networks better which would mean reduction of commuting needs for school kids.
Beijing News and China Business News also report on the latest Treasury revenue, which stood at 9.73tn yuan ($1.53tn; £978bn) for the first 11 months.