China morning round-up: China 'regret' on stabbing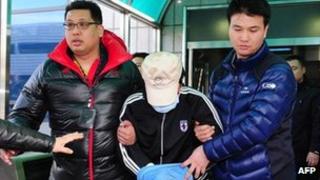 Chinese media outlets continue coverage on the stabbing incident off the coast of South Korea, as the diplomatic row goes on.
China Daily and People's Daily report on their back pages the Foreign Ministry's comment that Beijing "regrets" the death of the South Korean coast guard.
The Global Times focuses on the anger in South Korea by citing local press, and says South Korean newspapers are expecting death penalty for the Chinese fishing boat captain.
People's Daily runs a commentary on the statement by US President Barack Obama where he reiterated the Iraq war was over as he met Iraqi Prime Minister Nouri Maliki.
The article criticises American people for being selfish, saying the Americans "rarely consider the long-term effects on Iraq brought by this war".
The paper also reports on the Foreign Ministry's rebuke on Washington's recent comments on China's human rights record, saying the US should do its own soul-searching.
On the latest school bus crash in Jiangsu province, reports by Xinhua News Agency carried by Beijing News and others suggest that the bus driver is to shoulder all the responsibility since he does not have the correct driving licence.
The Education Ministry has ordered another nation-wide emergency check-up on school bus safety, the paper says.
China Daily carries an exclusive interview with Lin Yifu, senior vice-president and chief economist of the World Bank, in which he suggests Beijing should boost the infrastructure and manufacturing sectors by increasing government spending, so as to ensure economic expansion in 2012.
China Daily and Beijing Times also report on a Ministry of Commerce official's comment that protection of intellectual property rights should be tied to the performance assessments of regional governments.
Shanghai Morning Post and some business newspapers also note that the Shanghai Composite Index has fallen back to the level of 10 years ago as it closed at 2248.59 on Tuesday.