China morning round-up: Police make school bus promises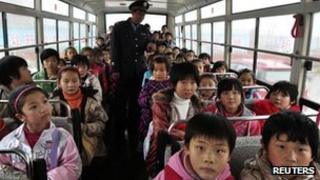 Newspapers in China lead with further promises by the government to improve school bus safety.
China's Ministry of Public Security - the national police agency - pledges to grant "utmost right of way" to school buses that pass the authority's examination, reports the China Youth Daily.
This is the latest move by the Chinese government to pacify a public outcry after several fatal school bus crashes.
The ministry has promised to junk school buses that are not road-worthy, says the Beijing News.
Another focus of the day is the road toll dodger retrial in central Henan province, where the defendant has seen his jail term being reduced from life imprisonment to two and a half years.
After the controversial initial ruling was revealed last year, prosecutors subsequently withdrew the case and the presiding judge was removed from office, the China Daily recalls.
The Global Times reports on the first court appearance of Chinese fishing boat captain Cheng Dawei in Incheon, where he is accused of manslaughter for killing a South Korean coast guard.
It says Cheng denied the charge, and reports that there are bruises on his face.
Mainland Chinese media does not cover the ongoing dispute in the Guangdong village of Wukan, but Hong Kong newspapers such as the South China Morning Post feature reports on it.
About 7,000 people joined the latest protest on Thursday to seek justice for the rural leader Xue Jinbo who died in police custody, says the Post.
Villagers appealed for intervention by the central government in Beijing, Ming Pao Daily News says.