China morning round-up: Space achievements marked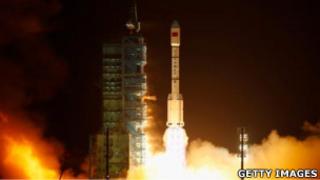 China's year of achievements in space was the focus of media coverage, with all credits going to the Communist party.
On Monday, various newspapers including the People's Daily carried a long review piece, which claims the central leadership of the Communist Party of China have advanced the country's efforts to explore the universe.
China has seen the launch of Tiangong-1 - its first experimental space laboratory - in late September, and also completed a series of docking experiments with another space module Shenzhou-8.
Beijing hopes to eventually build own space station.
Another focus for the media is falling property prices in China's major cities.
November saw 49 out of 70 cities monitored report falling prices for newly-built residential properties compared with a month earlier, says China Daily, according to figures released by the National Bureau of Statistics on Sunday.
Shanghai's China Business News suggests that China's property market "will remain in winter" in 2012.
There are also reports about Beijing's criticism of US diplomacy in the region. The Global Times reports in its Chinese version that the Foreign Ministry's Hong Kong Commissioner has warned off the US Consular General from "intervening Hong Kong's internal affairs".
Commissioner Lu Xinhua threatened to "blacklist" Consular Stephen Young if the US does not "correct the mistake", while the US side has denied the accusation.
Citing press comments from Hong Kong across the weekend, Mr Lu's comment is referring to what Wikileaks has previously revealed: that US diplomats in Hong Kong have been meeting political heavyweights in the former British colony.
On the other hand, China is hoping that the US can play a constructive role and respect China' s core interests in the Asia-Pacific region, Assistant Foreign Minister Le Yucheng is quoted by the China Daily as saying on Sunday.