Gandhi building renaming row widens West Bengal rift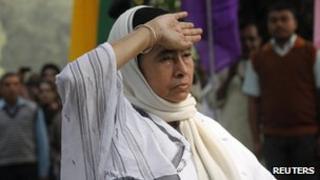 The rift between the two partners in the ruling coalition in India's West Bengal state has widened - over the renaming of a building.
The Congress party and Trinamool Congress have been at loggerheads over a number of issues for several months.
They include retail reform and the controversial anti-corruption bill.
Now Congress has objected to a move by Trinamool to switch the name of a building honouring ex-PM Indira Gandhi to commemorate poet Kazi Nazrul Islam.
'Leaders curse me'
The two-storey building, Indira Bhavan, in the Salt Lake area of Calcutta, was the official residence of former Chief Minister Jyoti Basu for more than two decades.
His party - the CPI(M) - recently vacated the house and soon after officials announced the plan to set up a research centre in memory of rebel poet Kazi Nazrul Islam.
The state Congress leadership, reportedly with the backing of the main Delhi party, launched protests.
State Congress chief Pradeep Bhattacharya told the BBC: "We just want to hear one line from the government - the name Indira Bhavan won't be changed. We will withdraw all our agitations."
Congress leaders said they were not against setting up a Nazrul research centre but that it should be elsewhere.
Mrs Gandhi stayed in the building for only a couple of days to attend a conclave in 1972.
Jyoti Basu stayed there for more than two decades - even after he left the chief ministership in 2000.
West Bengal Chief Minister Mamata Banerjee, of Trinamool, asked why Congress had not objected while Mr Basu was in residence.
She said: "Some of the Congress leaders curse me every day. I don't retaliate by using filthy words against [Prime Minister] Manmohan Singh or [Congress president] Sonia Gandhi."
Recently, Ms Banerjee has opposed Congress on a number of key issues, including petrol price rises, water sharing treaties, retail reform and the anti-corruption Lokpal bill.
Congress says its workers and leaders are being threatened or coerced every day by the Trinamool.
However, the Congress leaders are not calling for an end to the West Bengal coalition.
Pradeep Bhattacharya called for "coordination between the two parties" but added that Ms Banerjee "hasn't yet paid any heed to it".