China morning round-up: New Year propaganda vow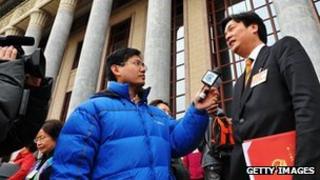 National Chinese language newspapers lead their coverage on Thursday with the latest instructions from senior leaders to intensify propaganda work.
Li Changchun, a Standing Committee member of the Communist Party's Politburo, told propaganda officials from across the country to continuously enhance "the ability of opinion guiding and international communication, and strive to create an objective and friendly international public opinion environment in favour of our country".
Mr Li made his comments at a national meeting of propaganda officials in Beijing, reports the People's Daily. The paper's Overseas Edition reports various achievements in propaganda work during the past year alongside Mr Li's comments.
Meanwhile, China Youth Daily also reports a speech given by Vice President Xi Jinping at another conference organised by propaganda and education officials of the Communist Party.
In the speech, Mr Xi described tertiary education institutions as "a crucial battleground of ideology to equip our youth with core values of socialism".
On the other hand, Hong Kong's South China Morning Post reports a new law in the central province of Hubei set by a controversial party official.
Li Hongzhong, Communist Party secretary for Hubei, has ordered local media to stop investigating events outside the province, says the report.
Mr Li scolded a reporter and seized her digital recorder during the 2010 National People's Congress, when he was still the governor of Hubei. The incident sparked an outcry in cyberspace, as has this latest order.
As Beijing's foreign ministry refutes media reports on the mistreatment suffered by the Indian diplomat in the Chinese city of Yiwu, the Global Times, citing "an official in Yiwu who is familiar with the situation", said what the Indian media had reported "does not exist at all".
The paper further criticises reactions by India's foreign ministry and the media as an act of "parochial nationalism" in its editorial.
Also, a commentary piece published in the People's Daily denounces Western criticism that China is attempting to increase its influence in Burma by accelerating investment in the country.