China morning round-up: Annual migration begins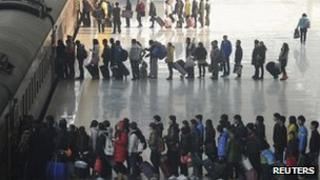 Most Chinese newspapers lead on the start of the annual migration for the Spring Festival - also known as Chinese New Year.
Beijing's Ministry of Transport said the number of passenger trips was expected to reach 3.16bn within the 40-day period, which is yet a new record high, reports the English edition of Global Times.
Although most of these trips will be made by road, the focus still remains with the scandal-hit railway system, which the China Daily says will handle some 235 million passenger trips.
The Overseas Edition of People's Daily praised the first day of operations at Beijing West Station as being smooth, while Beijing News said the Railway Ministry had placed diesel locomotives and back-up generators across the country on stand-by.
The paper says this was a measure to prevent any extreme weather bringing the network into a standstill - something that hit the travel rush period hard back in 2008.
However, the first day of festive travel period has already seen some fatalities - an intercity coach overturned in Guizhou province, reports the Shanghai Morning Post and others, killing at least four people and injuring dozens.
While the national papers are yet to gear up on their coverage of the visit by President Lee Myung-bak of South Korea, China Daily, citing an unnamed source from the Ministry of Commerce, reports that talks on a bilateral free trade agreement (FTA) will be announced.
The source also says talks on a China-Japan-South Korea FTA are expected to start in the first half of this year.
People's Daily runs a commentary in its Overseas Edition which states that China and South Korea are yet to solve issues such as political mutual trust between the two countries.
In other news, the paper's domestic edition reports on Premier Wen Jiabao's renewed instructions over the weekend that financial institutions should work on easing lending difficulties for the actual economy, while also suppressing speculative activities.
Beijing News carries an interview by the official Xinhua News Agency with an unnamed official from the State Council's Office for Rectifying Malpractices which says some 1,400 counts of forced demolition across the country have been investigated, with around 500 people being "accounted for".
People's Daily reports separately on an order issued by the Ministry of Land and Resources that no forced demolitions should happen again.
Newspapers in Hong Kong - including The Standard and Ming Pao Daily News - focus on two stories on Monday.
The first is a online-called mass rally outside the Hong Kong flagship store of Italian luxury fashion brand Dolce & Gabbana, where locals demanded an apology for alleged discrimination that banned then from taking pictures of its show window.
The other story is the primary election being held by Hong Kong's pan-democratic camp on Sunday that picked a united candidate to run for the Chief Executive election, which will take place in March.
Albert Ho, chairman of the Democratic Party, won this first-ever primary election in Hong Kong, while a politician from the camp suggests that hackers have been attempting to attack their internet-based voting system without success.