Man-hunt in China for Nanjing armed robber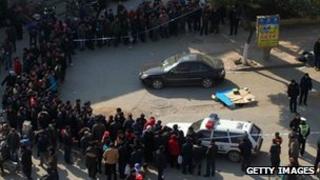 Thousands of police officers in China's Nanjing city are trying to hunt down an armed robber, reports Chinese media.
The suspect shot dead a man who had just withdrawn 200,000 yuan ($31,700; £20,500) from a bank.
He is also believed to have carried out similar attacks in the past, killing six other people in total.
Police are offering a reward to the public for information and heavily-armed officers have been searching vehicles on major roads.
The most recent attack took place on Friday morning in front of a branch of the Agricultural Bank of China on Nanjing's Dongmen Street.
Police subsequently released surveillance camera footage that caught the suspect running away from the scene.
Pei Jun, deputy police commissioner in Nanjing, said the suspect was believed to have carried out six other armed robberies in Changsha and Chongqing since 2004.
Reports from local media say police are patrolling coach and railway stations, river docks, Internet cafes and hotels in the city.
Robbery rates often increase during the Chinese New Year period as people carry more money on them than usual.
But gun crime remains rare in China, where extremely tight laws bar virtually all private gun ownership.