China morning round-up: Communist Party discipline vow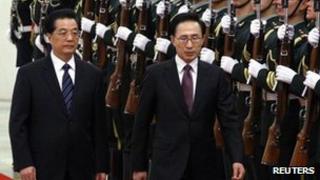 Tuesday's newspapers across China focus on President Hu Jintao's latest call for strict discipline across the Communist Party.
Mr Hu made his remarks at a meeting of the Party's Central Commission for Discipline Inspection, reports China Daily.
People's Daily and most other Chinese language papers carry Mr Hu's comments at the anti-corruption body's meeting on their front pages.
New local government and party heads across China are to be chosen this year, while at the national level successors for Mr Hu and Premier Wen Jiabao will also be chosen.
On the international side, Mr Hu's meeting with his South Korean counterpart Lee Myung-bak has also received considerable attention.
China Daily and others say the two presidents stressed the importance of maintaining stability on the Korean Peninsula amid the leadership transition in North Korea.
The Global Times says in its editorial that it is time for China and South Korea to have friendly ties again but repeats criticism of South Korea, such has how its press reacted to the incident last month where a South Korean coast guard was stabbed to death allegedly by a Chinese fisherman.
In a second editorial, the paper urges China to "defeat the US" over Iran by ignoring US and EU pressure and continuing to trade publicly with Iran.
In other news, China Daily and People's Daily itself reports on the initial public offering (IPO) of People.cn - the online subsidiary of the People's Daily - which if approved by the regulators would make it the first national mouthpiece of the Communist Party to be listed in capital markets.
Also, the two papers are reporting that the Ministry of Education is looking into a reported leak of answers during the national entrance examination for postgraduate students.
Some students who took the test posted pictures on social media sites that showed mobile phone text messages that are allegedly answers to the test papers.
A school in concern has denied leaking answers.