China morning round-up: Trade and Geithner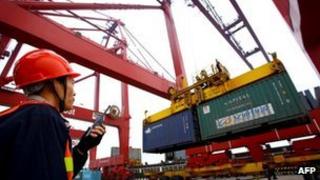 Wednesday's newspapers report on a raft of diplomatic moves across the country.
The Global Times reports in both its Chinese and English editions on the first day of the visit by US Treasury Secretary Timothy Geithner in Beijing.
His talks with various Chinese leaders are expected to include subjects such as sanctions against Iran, China's currency and bilateral trade ties.
A political expert cited by the paper appeals for a tough stance on Mr Geithner's expected lobbying of Beijing to co-operate with the sanctions effort.
Mr Geithner begun his visit as China released trade data for 2011, which showed its annual trade surplus in a declining trend, as reported by the China Daily.
On the other hand, People's Daily reports on the announcement of Premier Wen Jiabao's forthcoming visit to the Middle East, while Shanghai Morning Post, citing a political pundit, suggests that this could be seen as a countermeasure to a possible deterioration in the Iran nuclear crisis.
Also in Wednesday's Global Times is an editorial that lashes out at Tibetans in exile, accusing the Dalai Lama of making use of recent incidents of Tibetan monks setting themselves on fire "for political gain".
Most local authorities across China are kicking off their annual sessions of their People's Congress and Political Consultative Conference, and Beijing News reports that the conference in Beijing is to focus on how to clean up the capital's air.
However, Beijing has yet again being shrouded in heavy fog, with over 100 flights disrupted. This was picked up by Shanghai Morning Post and others.
In other news, China Youth Daily released the result of a survey carried out by the paper with a popular online forum which discovered that 70% of petitioners being surveyed had tried to submit their petition online.
Of these people, 90% said they were not happy with the reply from relevant authorities.