China morning round-up: Inflation and economy discussed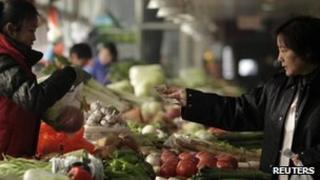 Newspapers across China discuss the country's economic prospects on Friday as inflation data for the past year was released.
China's consumer price inflation rate for December 2011 is 4.1%, while the annual rate is 5.4%, the government revealed.
The downward trend for monthly inflation is expected to continue, says the Overseas Edition of the People's Daily, while China Daily hints that this may lead to policy changes by the Chinese government aimed at promoting growth.
Beijing News points out that the annual rate may indicate a failure by the government to meet its target for curbing inflation, which was set at 4%.
Another story that occupies many front pages - including that of the People's Daily's domestic version - is President Hu Jintao's Spring Festival meeting with army veterans, where the president conveyed his wishes for good health and long life to the veterans.
National papers also cover the visit by Mongolian foreign minister Gombojab Zandanshatar.
The People's Daily reported on the minister's meeting with Zhou Yongkang, a Politburo member of the Communist Party who looks after security and legal affairs, while China Daily reports on Mongolia's wish to boost bilateral co-operation in areas such as mining.
China Daily also reports that a meeting by senior officials of China and ASEAN member states on the South China Sea issue is to be kicked off in Beijing on Friday.
"China will seize this opportunity of making joint efforts with ASEAN countries to maintain peace and stability in the South China Sea and bring benefits to people in the region," said Foreign Ministry spokesman Liu Weimin.
The People's Daily runs a commentary in its domestic edition, which appeals for something "concrete" to be done in resolving China's maritime dispute with some ASEAN member states.
The Global Times reports in its Chinese edition that China and India will hold their latest round of border talks in Delhi next Tuesday.
Citing "diplomatic sources", the paper says a border map that both Beijing and Delhi can accept will attempt to be drawn.
The paper's English edition, on the other hand, reports on a dispute in a Wuhan factory that belongs to Taiwanese electronics giant Foxconn, where the firm says it had successfully resolved a recent rooftop protest.
Online reports suggested that some of the protesters had threatened to commit mass suicide by jumping off the roof.
Microsoft, which has its Xbox 360 gaming console assembled at the Wuhan plant, said it was investigating this latest protest.
One other report from Shanghai's China Business News says the World Bank has published a report on China's government-controlled business.
The bank suggests that Beijing dissolve the Ministry of Railways, and replace it by setting up various railway companies to run the giant network, while the policy-making functions should be transferred to a new bureau under the Ministry of Transport.