China morning round-up: Ma's re-election in Taiwan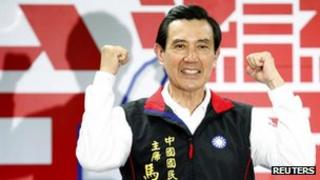 Newspapers in China continue to focus on the re-election of Taiwan's President Ma Ying-jeou in elections on Saturday.
The Global Times says that Mr Ma's victory "clarifies one fact: Intending to separate Taiwan from China is totally unrealistic at present".
Mainland China, it says, "should be confident in combating 'Taiwan independence' while staying ready for a path to unification with twists and setbacks".
Citing an academic, the Overseas Edition of People's Daily suggests that the election result shows that opinion in Taiwan supports the 1992 Consensus, which is that there is one China defined in different ways by Taiwan and China.
Another commentary from Beijing News appeals for the two sides across the Taiwan Strait to take hold of a "rare chance" and develop further economic exchange and co-operation.
The other focus of the day is Premier Wen Jiabao's ongoing visit in the Middle East. China Daily and others report on a deal struck by Sinopec with Saudi Arabia's Aramco to build an oil refinery in the Red Sea port of Yanbu, which will be in operation by 2014.
And as the Arab Spring come close to its first anniversary, Wen Jiabao says China "respects people's choice" for change, as he met King Abdullah, People's Daily reports.
While Mr Wen did not mention Western sanctions on Iran, the Global Times' Chinese edition, citing Iranian press, says Iran will not stop its trade with China despite the sanctions.
The national papers also issue tough warnings on maritime disputes.
People's Daily runs a commentary in the Overseas Edition saying it is the US instead of China who attempts to create hegemony in the South China Sea, and that the US will suffer from the trouble that it stirs up.
The Global Times' Chinese edition runs an opinion piece from the National Defence University. It warns that major shipping routes towards the Pacific are under the control of Japan and the US, and China therefore has to enhance its naval capability.
In other news, China Daily and local papers such as Beijing News report on the latest attack on a Chinese merchant vessel along the Mekong River. Crew members on board Shengtai 11 have managed to fend off the attackers.
Beijing News' editorial appeals for the Chinese government to protect trade "whatever it takes".
And while the world has its eyes on the ongoing rescue effort on the capsized cruise ship in the Mediterranean, China Daily and The Standard in Hong Kong report on the ordeal of some 20 Hong Kong passengers on board the vessel who survived.