China village head detained for arson in Hebei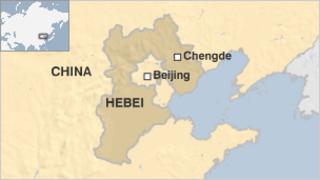 A village head in China's Hebei province has been arrested for setting fire to government offices.
Gao Jinhe, head of Beitai Village, burnt down over a dozen offices in a township government in Chengde County.
Two local officials were said to have been injured, with one reportedly in a critical condition.
Reports say the attacker was unhappy about a corrupt official in his village.
Police in Chengde told the People's Daily that Gao Jinhe went to the township government offices in Sunday afternoon and set them on fire.
The Information Centre for Human Rights and Democracy - which is based in Hong Kong - said that Mr Gao was later taken away by police and his whereabouts were unknown.
Police says they are investigating the case. No other details has been released.