China morning round-up: Discussing economic growth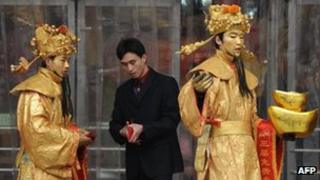 Chinese newspapers on Wednesday discuss the official statistics on economic performance in 2011, and try to shed some light on the prospects for 2012.
China records ayear-on-year growth of 9.2% in its gross domestic product (GDP), down from 10.4% in 2010.
China Daily says the growth was at its slowest pace in more than two years, and analysts predict that the latest figures may prompt the government to introduce stimulus policies.
The Overseas Edition of People's Daily says China's economy would slow down this year, while its domestic edition says instead that the whole picture "has more bright spots than difficulties".
Shanghai's China Business News, quoting Joseph Stiglitz - a Nobel laureate in economics - says a slowdown in economic growth now is actually good for China in terms of achieving sustainable growth in the future.
The editorial of Guangzhou's Southern Metropolis Daily says that it is time for China to get rid of its "superstitious belief in GDP" which has caused so much damage to the environment across the country.
India's latest round of high-profile border talks with China are also been reported in some Chinese newspapers, but do not receive huge attention.
People's Daily runs a brief report which says the two sides had "frank and in-depth" discussions. Shanghai Morning Post also reports on the meeting between India's Prime Minister Manmohan Singh and the Chinese special envoy Dai Bingguo.
China Daily publishes a commentary by an academic from New Delhi's Jawaharlal Nehru University, which says the talks are on the right track.
People's Daily also carries two reports on Hong Kong on Wednesday. Its Overseas Edition looks into the ongoing row of mainland Chinese mother flooding into Hong Kong hospitals to give birth, but stops short of discussing its causes.
The domestic edition reports the Ministry of Commerce's account of Beijing's policies that aim to give Hong Kong economic support, which the ministry claims have all been effective.