Chinese writer Yu Jie describes 'inhumane treatment'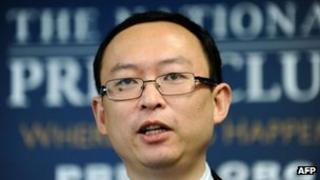 A prominent Chinese writer close to Nobel Peace Prize winner Liu Xiaobo has described "inhumane treatment" that forced him to leave.
Speaking in Washington, Yu Jie said he was harassed by police, then abducted and severely beaten.
Mr Yu, 38, wrote "China's Best Actor: Wen Jiabao", a controversial book that scrutinised the premier. The book was banned in mainland China.
Meanwhile a court in China has jailed a democracy activist for subversion.
It is the third lengthy jail term handed down to a government critic in China in less than a month.
'Traitor to the state'
Mr Yu arrived in the US on 11 January to live with his wife and son.
On Wednesday he appeared at a press conference and also released a statement - published on the rights group Human Rights in China website - describing persecution at the hands of state police.
He said that after Liu Xiaobo was awarded the Nobel Peace Prize "illegal house arrests, torture, surveillance and tracking, and being taken on 'trips' became part of my daily life".
Mr Liu is currently serving an 11-year jail term in China for inciting subversion.
Mr Yu said he was picked up by plainclothes officers on 9 December 2010, the day before the Nobel Peace Prize ceremony, hooded and and taken to an undisclosed location.
There he said he was stripped of his clothes, beaten for hours and told that his naked photos would be posted online. He said he also suffered cigarette burns.
"They verbally abused me non-stop with vulgar language, calling me a traitor to the state and to the Chinese people, and trash," he wrote in the statement.
He was eventually taken to hospital for treatment and released on 13 December.
After that, he said he was frequently placed under house arrest and his movements were curtailed.
"After over a year of inhumane treatment and painful struggle, I had no choice but to leave China," he said.
Mr Yu now plans to publish a biography of Mr Liu authorised by his wife, as well as a new book on Chinese President Hu Jintao.
'Bottom line'
Meanwhile, another writer and activist has been sentenced in China for "subversion of state power", according to media reports.
The Wuhan Intermediate People's Court in Wuhan, central China, sentenced Li Tei to 10 years on Tuesday, making him the third dissident to be jailed in less than a month.
Mr Li, 52, was punished for writing online articles encouraging people to defend their rights, an unidentified relative of his told Reuters news agency.
"Li Tie says he wants to appeal, so we are looking for a new lawyer to help us," a relative was quoted as saying.
For three years now the Communist Party has overseen a crackdown on its critics, ever since Liu Xiaobo published Charter 08 calling for constitutional democracy, reports the BBC's Damian Grammaticas in Beijing.
The campaign was stepped up last year after calls circulated online for Chinese to carry out an Arab-style Jasmine Revolution.
And it appears to be intensifying ahead of a major reshuffle of China's top Communist leaders at the end of this year, our correspondent adds.
On Monday US Ambassador to China Gary Locke said that human rights in China had deteriorated since 2008 - comments rejected by a Chinese foreign ministry spokesman.
"As to some people who have been punished by law, it is not because China is repressing freedom of expression or freedom of religion, it is because they reached the bottom line of China's law and violated China's laws and, naturally, they should be punished," Liu Weimin said on Tuesday.