China morning round-up: Lunar New Year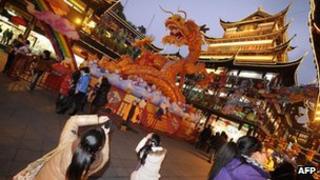 The approaching Chinese New Year holiday is the biggest focus in Friday's Chinese newspapers.
Coverage of the travel rush nears a peak with reports on rail and road traffic, while the People's Daily also reports that hundreds of thousands of migrant workers in southern Guangdong province set off home on motor bikes.
Beijing News reports an appeal from environmental groups for residents to light fewer firecrackers and fireworks - an important tradition - in order to keep the air clean.
Another piece in the People's Daily sets out legal advice for the festival, ranging from the legal limit of gifts that one can receive without constituting a bribe to whether your deposit for a New Year's Eve dinner could be refunded if you cannot go.
But most of the local papers lead on a show business shocker - China's top comedian Zhao Benshan has pulled out of national broadcaster CCTV's annual Spring Festival Gala citing "extreme tiredness".
Shanghai Morning Post said Mr Zhao's short comedy was a "fixture" of the national live telecast, while Guangzhou's Southern Metropolis Daily said his annual play was an "essential dish" in everybody's New Year's Eve dinner.
Mr Zhao has been performing at the gala since 1990. Apart from an absence in 1994, he has always been given the "grand finale" slots. His absence coincides with the 30th broadcast of the gala.
As the show has faced heavy criticism in the past few years for its content, a feature published in the People's Daily questions whether the show can survive another 30 years.
National papers have kept their focus on Premier Wen Jiabao's visit to the Middle East. People's Daily reports a press conference in Doha as the premier wrapped up his tour in which Mr Wen defended China's "normal trade ties with Iran".
Some papers also report a death penalty verdict for a female billionaire accused of cheating investors through illicit means of financing. The Global Times and others say this has sparked major debate "with observers calling for a relaxation of limits on informal lending by authorities".