China morning round-up: Wen Jiabao on 'rural democracy'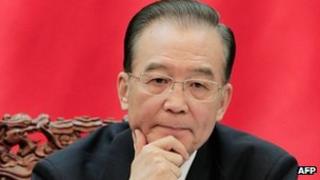 On Lantern Festival day, most newspapers in China focus on the latest comments by Premier Wen Jiabao.
Mr Wen pledged "unwavering support for reform" and called for better laws to protect the voice of farmers in rural communities, reports the China Daily.
The premier also admitted that it was a common phenomenon nowadays for unregulated land grabs to trigger public disputes in rural areas, says the People's Daily.
Wen Jiabao's comments - made as he toured the southern province of Guangdong - referred to a major speech made by the late leader Deng Xiaoping 20 years ago.
His comments also come as the Guangdong village of Wukan prepares to elect new village officials to replace those removed during a massive protest last year.
The Global Times pays considerable attention to China's veto of the draft UN Security Council resolution concerning Syria.
In a commentary piece, its Chinese edition "applauds" Beijing's decision to veto the draft, and lashes out at comment by Susan Rice, saying it is actually Ms Rice's comment that are "disgusting".
The US ambassador to the UN had said she was "disgusted" by Russia and China's vetoes on Saturday.
People's Daily also runs a commentary piece on the veto vote, saying the international community should "give more chance to peace".
In other news, China Daily published a feature on its front page saying that recent unrest in Tibetan towns in Sichuan was "linked to organised crime and subversion".
Shanghai Morning Post and others report on another tourist rip-off incident from the southern city of Xiamen, where a group of seven from eastern Suzhou city were presented with a bill of 9,560 yuan ($1,520; £960) for a five-course dinner at a roadside seafood stall.
This follows similar incidents reported in the southern island resort province of Hainan, and the Beijing News appeals for an end to such "rip-off prosperity" in China.
And since this is the Lantern Festival day - the 15th day of Chinese new year - national papers like the Global Times report long queues for the festive sweet dumplings called "yuanxiao", while People's Daily's Overseas Edition discusses features of the celebrations.