China morning round-up: Defending Syria veto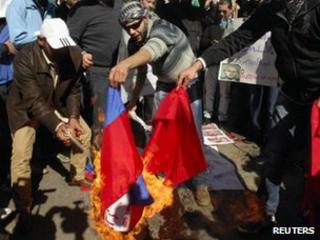 Tuesday's national newspapers in China continue their coverage of China's veto of a UN resolution which condemned Syria's crackdown on anti-government protesters.
China Daily reports comments made by a Foreign Ministry spokesperson claiming Beijing "will uphold justice and take a responsible attitude" on the Syria issue.
A vote on the resolution was forced despite serious differences among various parties, and such practices do not help maintain the unity and authority of the UN Security Council, said the Foreign Ministry spokesman Liu Weimin.
In a commentary published in its Overseas Edition, People's Daily suggests that it is actually China and Russia who have opened up "a window of opportunity" to solve the crisis.
Another commentary on the domestic edition criticises "some countries" for not actually respecting the UN, and says the Security Council has to be prevented from becoming a "rubber stamp".
The Global Times reports the attack on the Chinese Embassy in Libya by protesters in sympathy of Syria. It also reports that Canadian Prime Minister Stephen Harper is to discuss the situation in Syria as he arrives for an official visit in China on Tuesday.
Papers have also been covering the order made by Beijing authorities that no Chinese airlines are allowed to pay the EU carbon tax.
China Daily recalls that the charges are "opposed by more than two dozen countries", while People's Daily used the phrase "highway robbery".
And with Beijing about to release the first round of economic data for 2012, predictions on the inflation rate are beginning to appear in papers.
People's Daily says the consumer price index for January is likely to remain high due to demand driven by the Chinese New Year, while from February there will be a downhill trend.
Shanghai's China Business News put their inflation rate prediction at 4.1%, which would be the same as last month.
Also in the news, a senior official of the National Bureau of Statistics has told China Daily that Beijing is planning to publish integrated urban-rural income data starting in 2013, paving the way for eventually releasing a national co-efficient that can measure income inequality.