China morning round-up: China-Canada ties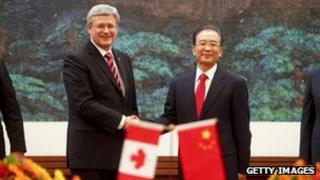 National papers on Thursday lead with the ongoing visit by the Canadian prime minister to Beijing.
People's Daily covers the meeting between Stephen Harper and his Chinese counterpart Wen Jiabao, while China Daily focuses on trade contracts signed and witnessed by the two premiers.
A Beijing diplomat said Chinese firms were encouraged to "intensify" their investment in Canada's energy sector, says China Daily, as it was widely expected that Mr Harper will discuss oil and gas trade with China.
The Global Times, meanwhile, runs a bilingual editorial that urges Beijing to step up its involvement in mediating the ongoing crisis in Syria.
"The West has sped up efforts against Syria after the double veto by China and Russia," says the editorial. "China cannot sit idly by as the situation moves away from its intentions."
In other news, China Daily and People's Daily report Vice-Premier Li Keqiang's pledge to promote food safety across China.
Stiffer financial penalties will be imposed on those found guilty of contaminating food, said the vice-premier.
The government has also pledged to improve the employment market.
Global Times says the nation is aiming to create 45m jobs and bring the annual urban unemployment rate under 5% by 2015, while Beijing News reports on the target for the minimum wage to achieve an annual growth of above 13% on average by the same year.
People's Daily runs another feature piece that criticises the EU for launching a so-called carbon tax "under no legal grounds".
At the same time China Daily, citing "industry insiders", says about half of the Clean Development Mechanism (CDM) projects with European companies are being renegotiated or terminated as these firms refuse to pay the pre-agreed price following a market plunge.
Another report in the paper suggests that tap water supplied in the eastern city of Zhenjiang is safe to drink following a chemical spill in the Yangtze River, while Shanghai Morning Post says local residents are still complaining about a peculiar smell in the water.
Newspapers including Guangzhou's 21st Century Business Herald report on the arrest of a most-wanted fugitive in the eastern province of Zhejiang.
Liu Weining, a former branch manager of a bank in Shandong province, allegedly embezzled some 436m yuan ($69m; £44m) from the bank since last year.
However the story of the former police chief in the central city of Chongqing who went on "holiday therapy" did not make its way to most printed papers.
Hong Kong newspapers including the Sing Tao Daily reported on rumours surrounding the case. Ming Pao Daily News suggested the main focus now would be whether the incident would affect the career of his boss Bo Xilai - the city's top Communist Party chief.