China morning round-up: Xi preparing, Harper enjoying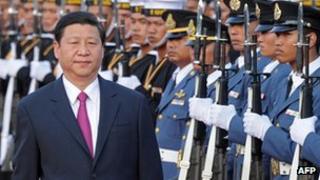 Chinese newspapers on Friday gear up their preview coverage of Vice-President Xi Jinping's visit to the US, as Canadian Prime Minister Stephen Harper enjoys some local Chinese delicacies.
China Daily publishes two survey sanctioned by the paper, which a majority of the respondents have expressed positive attitude to the "often-strained China-US relationship".
People's Daily publishes yet another commentary in its Overseas Edition, saying the two countries are encountering "historic opportunities".
Shanghai Morning Post reports on more details of Mr Xi's itinerary, including scheduled meetings with President Barack Obama, Secretary of State Hillary Clinton, and Defence Secretary Leon Panetta.
The possible next leader of China will also be visiting the Pentagon, the report says.
Coverage on Stephen Harper's visit is still prominent, however, and with some celebrity fun.
China Daily and Global Times talk about Mr Harper's lunch at a local Beijing restaurant, accompanied by the Chinese capital's famous Canadian entertainer Mark Rowswell.
But the serious business of trade still occupies most of the coverage. China Daily focus on pleas for more trade by the two sides, while People's Daily had put up a "list of achievement" made by Mr Harper's visit.
As the online space is having heated discussion on the mystery of former Chongqing police head Wang Lijun, papers including Guangzhou's Southern Metropolis Daily has only published the brief statement from the Foreign Ministry from late Thursday, if not accompanied by a profile of Wang at most.
Hong Kong's Ming Pao Daily News suggests that confirmation on Wang's "visit" to the US consulate will be a blow to the city's Communist Party chief and former Commerce Minister Bo Xilai, as he is expected to receive promotion in this year's party conference.
In other news, after being told to maintain stability or face dismissal, the Global Times reports that officials in Tibet have been warned further to ready themselves for "a war against secessionist sabotage".
The paper's Chinese edition publishes a commentary, which accuse the US for tying to establish he phrase "Tibet issue" in order to provoke military attack on China.
Shanghai Morning Post carries an earlier report from Tibet Daily, which says a few local officials in the region has been punished for their misbehaviour.
Another news on the diplomatic front is the continuing violence in Syria. The Global Times reports on the criticism from within China for Beijing's decision to veto a UN resolution.
At the same time, China Daily reports on the confirmation by the Foreign Ministry that a delegation of Syrian oppositions has been visiting China, where the two sides have been holding discussions.