China morning round-up: Wen prepares annual report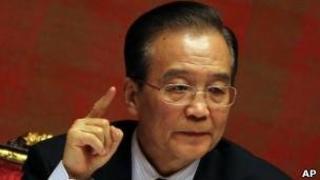 Monday's newspapers in China have extensive coverage on a series of meetings chaired by Premier Wen Jiabao last week ahead of his annual report.
The meetings were aimed at seeking opinions from "different walks of life", said a Xinhua News Agency report carried by the People's Daily and many others.
Policies mentioned during the meetings include measures to solve funding shortages for various railway construction projects, school bus safety regulations, and ways of maintaining a stable and healthy property market.
Mr Wen has also pledged to adopt more measures to encourage private investment in monopoly industries, aimed at addressing problems with China's economic structure, says China Daily.
European talks
The premier is also due to host the latest round of a summit with European Union leaders on Tuesday, and the national papers spare no effort to spell out Beijing's stance on China-EU relations.
In a commentary published in its Overseas Editions, People's Daily says the discussion will be focused on the ongoing European debt crisis, but China does not have the appetite to "buy out Europe".
Another commentary in the paper's domestic edition reminds Europe that it is essential to develop a good relationship with China if it wants to maintain its position in international politics and the economy.
As Vice-President Xi Jinping is due to arrive in the US for an official visit, the Global Times and others preview his week long itinerary, while China Daily describes how people in the Iowa town of Muscatine are "Feeling Great" - as the town's slogan goes - ahead of the future Chinese leader's return to the town after 27 years.
However, Hong Kong's Ming Pao Daily News mentions that the US Congress has scheduled a hearing on human rights in China on Tuesday, just as Xi Jinping is expected to hold talks with US President Barack Obama.
Coverage on the sudden death of US singer Whitney Houston has also flooded many regional and local Chinese papers.
Beijing News recalls Ms Houston's Beijing concert held eight years ago, and used an English headline for the paper's obituary, saying: "We will always miss you." Shanghai Morning Post described her death by saying that another legend has gone.
Finally, as the first international "snow polo" tournament in China draws to a close in Tianjin, Tianjin Morning Post and Sing Tao Daily become was one of very few to report on the victory of Hong Kong in the tournament.