China morning round-up: Xi Jinping meets Barack Obama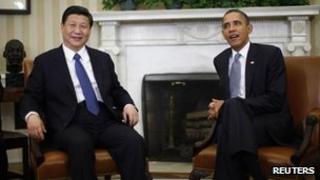 Newspapers in China have covered Vice-President Xi Jinping's meeting with US President Barack Obama extensively.
Both China Daily and People's Daily carry reports of the meeting on the front page, and one full page in the People's Daily is dedicated to Mr Xi's first day of activities in Washington.
Global Times says the Xi-Obama meeting attracted global attention, while a front page commentary on the People's Daily Overseas Edition suggests that China-US relations will determine the fate of this century.
Trade disputes have been a major issue between the two countries, and a further report on the People's Daily Overseas Edition asks Washington to remove trade barriers.
However, People's Daily and most other Chinese-language newspapers do not lead with Xi Jinping's visit on their front pages but - as is protocol - with President Hu Jintao's officiation of the State Top Scientific and Technological Award ceremony in Beijing.
Premier Wen Jiabao's meeting with European Council President Herman Van Rompuy and European Commission President Jose Manuel Barroso occupies the second top slot on the front page of People's Daily, while Xi Jinping's talks actually come third.
Guangzhou's 21st Century Business Herald takes a closer look at China's demands at the Beijing summit, suggesting that the EU is "easing up" on recognising China's status as a market economy.
In other news, the Global Times accuses South Korean media of speculation in relation to two stories: one on a group of 31 North Korean defectors arrested in China and the other on China-made chopsticks being found to contain cancer-causing chemicals by Seoul authorities.
There has also been a lively discussion on the Supreme Court's statement that it will review "cautiously" the death sentence handed down to former Zhejiang millionaire Wu Ying.
China Daily and Guangzhou's Southern Metropolis Daily recall details of the controversial trial, while a commentary in Beijing News endorses the top court's rare move to make a statement on a particular case before it has actually carried out the death sentence review.
Talking about law and order, People's Daily has also reported a controversial new policy in the eastern province of Shandong to combat drink-driving.
Police in the city of Jinan punished a passenger, after the driver was caught drink driving, for failing to urge her friend not to drive. The female passenger was named and shamed by the police, with a letter sent to her employer.