China morning round-up: Xi Jinping meets US military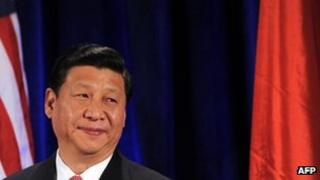 Thursday's newspapers in China continue extensive coverage of Vice-President Xi Jinping's visit to the US as he tours the Pentagon.
China Daily and People's Daily all cover talks in which Mr Xi urged defence officials from both countries "to enhance dialogue, cultivate trust and accommodate major concerns to establish a mature military relationship".
A front-page commentary in the People's Daily Overseas Edition says China and the US need "healthy, stable and mature military relations" which can only be achieved through mutual respect of each other's "core interests".
The Global Times suggests the US should shoulder more responsibility in enhancing China-US relations. In its bilingual editorial, it says: "China is not as ambitious as people believe but its promises are not believed."
"How the situation in the Pacific region develops depends on both China and the US. The US is the stronger of the two countries. It is thus key for it to be more open-minded."
Guangzhou's 21st Century Business Herald looks at some $271bn-worth of business deals to be signed by "shadowing trade delegations" from Chinese firms while Mr Xi's main delegation enjoyed a welcome lunch hosted by Secretary of State Hilary Clinton.
Shanghai Morning Post looks at the lighter side of the visit, including Mrs Clinton's choice of Californian-Chinese TV chef Ming Tsai to prepare the welcome lunch and what people in the small Iowa city of Muscatine have prepared to welcome their "old friend".
Back in China, People's Daily reports President Hu Jintao's meeting in Beijing with European Council President Herman Van Rompuy and European Commission President Jose Barroso.
Quoting China's central bank Governor Zhou Xiaochuan, China Daily says the country will continue to invest in eurozone sovereign debt, but the governor urges Europe to offer more attractive products.
People's Daily leads with the cabinet's plans for "cultural reform", which includes accelerating innovation and improving corporate management in official news organisations.
The latest cabinet meeting also featured in the People's Daily, where Premier Wen Jiabao laid out directions for the country's economic structural reform for this year.
Shanghai's China Business News says the meeting singled out two themes this year, namely breaking monopolies and expanding tax reform.
A legal row over Apple's iPad is still continuing, with Shanghai Morning Post and others saying some online stores have pulled the product off shelves. China Daily reports Apple's accusation that Shenzhen's Proview Technology has not honoured its agreement on the trademark rights transfer to Apple.
Beijing News and some regional papers also report yet another case of the questionable forced demolition of national monuments. This time it was a building in Chongqing that was used by late Chinese leader Chiang Kai-shek during World War II.