China morning round-up: Football scandal sentences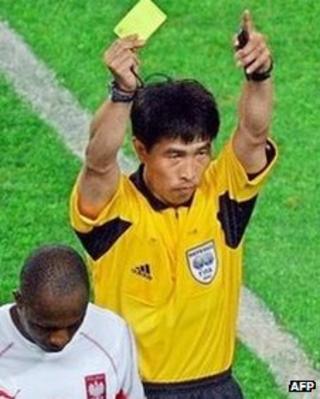 The sentencing of four top football referees in China on corruption charges is a major story in Friday's newspapers.
Beijing News and other regional papers lead with the story, which involved former "golden whistle" and top-level referee Lu Jun dubbed a "black whistle" (corrupt referee) and jailed.
He and three other defendants were sentenced to between three-and-a-half and seven years of imprisonment for bribery relating to match fixing.
Beijing News further reports that the China Football Association is refraining from carrying out disciplinary action connected to other people allegedly involved in the case because legal proceedings are ongoing.
The Global Times says fans of domestic football have been disappointed both by the scandals and the national team's poor performances in recent years.
Guangzhou's Southern Metropolis Daily says a Guangzhou company has also been fined 3m yuan ($476,000; £303,000) for its involvement.
Vice-President Xi Jinping's US visit is still the top story among national papers, with China Daily leading with Mr Xi's reunion with those he met 27 years ago in the Iowa city of Muscatine.
People's Daily reports on Mr Xi's speech made at a lunch before he left Washington DC in which he asked the US to implement a pledge to oppose Tibet independence.
Shanghai Morning Post previews Mr Xi's last leg of the trip, saying he will discuss high speed railway projects in Los Angeles.
People's Daily and others also report on the UN General Assembly statement made by the Chinese deputy ambassador in which China urged an end to violence in Syria.
A Global Times editorial says China should not be ashamed to "promote peace", since "the West does not like China anyway".
Another story drawing attention is the attempt by a pharmaceutical company to list on the stock market which has caused an outcry among animal welfare organisations because of the company's involvement in bear bile extraction.
People's Daily reports a "media communication session" called by the China Association of Traditional Chinese Medicine, in which its head Fang Shuting defends the attempt by Guizhentang Pharmaceuticals to be listed on the Shenzhen Stock Exchange.
Developments in Hong Kong's chief executive election race have made headlines across the city and in the mainland. One of the candidates, Henry Tang, has admitted that his luxury house has an underground facility that was apparently built illegally.
"It's all my fault," writes The Standard in its front page headline, as Mr Tang's wife Lisa Kuo claims she is responsible for the problem.
Ming Pao Daily News urged Mr Tang to quit the race, while China Daily Hong Kong Edition publishes a photo of numerous giant cranes hired by media organisations outside Mr Tang's central Kowloon home to get a shot of the problematic structure.