China morning round-up: Xi Jinping offers EU support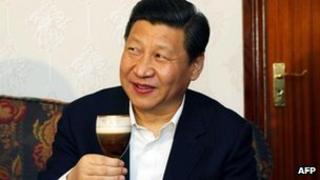 Reports on the foreign trip of Chinese Vice-President Xi Jinping remain prominent in Chinese newspapers on Monday as he arrives in Ireland.
Mr Xi reiterated that China will continue to support the EU's effort to address the European debt crisis, report China Daily and People's Daily.
"We have offered sincere help to our European friends in line with our means, through increased mutual investment and business cooperation," said the vice-president.
Before he left the US west coast, Foreign Minister Yang Jiechi hailed Mr Xi's trip to the US a great success, says People's Daily.
The crisis in Syria was also a major focus for national newspapers as Beijing's special envoy Zhai Jun concluded his trip to Damascus.
As China shows willingness to support a peace framework laid down by the Arab League, the Global Times says this does not contradict the country's former stance on the Syria issue.
"What China opposed was not the Arab League, but an individual's or a small number of countries' abducting the Arab League's will or imposing their own will onto the Arab League," an international relations pundit told the paper.
People's Daily says in a commentary that China's stance on the Syria issue "can stand the test of history".
The Global Times also reports that the film industry in China is worrying about an increase of 14 films to be imported to China from the US this year.
This is on top of the annual quota of 20 foreign films, says the report, and the US share of Chinese box office revenue will increase from 13.5% to 17.5%.
Its editorial in the Chinese edition says Chinese film makers should be more ambitious in order to face the challenge.
China Daily reports that people in Mainland China have spent more than 100bn yuan ($15.87bn; £10.1bn) on luxury products, a year-on-year increase of about 25%, according to data released by a consultancy firm.
Numbers of luxury goods outlets have been increasing across China as people's spending power expands, and Chinese tourists spending huge amounts on branded handbags or hi-tech gadgets has been a common scene in many places.