China morning round-up: Deng Xiaoping's speeches marked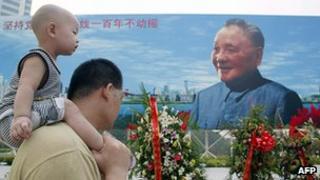 Most regional newspapers including the Beijing News lead with a long Xinhua News Agency feature on the 20th anniversary of a trip to southern China made by late Chinese leader Deng Xiaoping.
China Youth Daily is one of a handful of national newspapers that picked up the Xinhua article, which marked Mr Deng's speeches emphasising the importance of economic reform.
Mr Deng's visit in 1992 is seen as a milestone in China's recent economic success.
People's Daily instead marks the 50th anniversary of the death of Communist China's best known Good Samaritan, Lei Feng, because a recent Communist Party meeting called for Lei Feng's spirit to be studied. The actual anniversary will be in August.
In other news, People's Daily leads with the report of a Politburo meeting chaired by President Hu Jintao which discussed the forthcoming government work report to be delivered by Premier Wen Jiabao.
People's Daily and China Daily also continue their coverage of Vice-President Xi Jinping's foreign visit. Mr Xi met the Irish president and prime minister before heading to Turkey.
People's Daily talks to the Chinese ambassador to Turkey, who says there is a bright future for China-Turkey relations.
The Global Times picks up the news that Japan's Mayor of Nagoya Takashi Kawamura apparently denied the existence of the Nanking Massacre as he received a visiting delegation from Nanjing City. Beijing's Foreign Ministry has denounced Mr Kawamura's comment.
Also, Beijing News questions in its editorial a plan to turn the Sichuan township of Yingxiu into a major tourist spot.
The editorial called for respect to those who died in the deadly earthquake in 2008, which completely ruined Yingxiu.
Tuesday is New Year's Eve for Tibetans, and both China Daily and People's Daily portray a festive scene with reports on how people are preparing for celebrations and how a few ethnic Tibetan soldiers are celebrating with fellow Han Chinese troopers in the southern island of Hainan.
In Hong Kong, most newspapers lead with the news of former top minister Henry Tang submitting his nomination to run for Hong Kong's chief executive post.
The scandal-hit Mr Tang has received support from four property tycoons in the city, says Ming Pao Daily News, including Li Ka-shing.
The Standard and others also reports legislator Regina Ip's announcement that she is running for the same post. Mrs Ip resigned from her previous post of secretary of security in 2003 after the draft anti-subversion legislation sparked a massive rally in protest against the bill.