China morning round-up: Nagoya criticised over Nanjing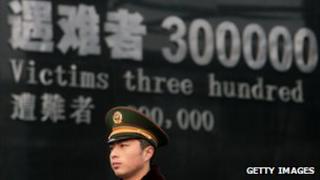 Many newspapers across China continue to lead with the spat between China and Japan over the comments made by Nagoya Mayor Takashi Kawamura.
Luo Zhaohui, head of the Asian affairs department of China's Foreign Ministry, expressed strong dissatisfaction while meeting visiting Japanese counterpart Shinsuke Sugiyama, says the English edition of the Global Times.
The paper's Chinese edition further says many Chinese netizens have appealed for a boycott on visiting Nagoya.
And in its bilingual editorial the Global Times says: "We advise China to levy sanctions on Kawamura."
"Nagoya can be delisted from the schedule of Chinese tourism groups to Japan. China can also consider reducing economic exchanges with the city. He should be strongly refuted."
Beijing News further reports that China's consulate in Nagoya has also lodged complaints with the local government, while a municipal government spokesperson said that Mr Kawamura's comments did not represent the government's position.
People's Daily also reports on the comments made by the Foreign Ministry - but in the back pages.
It cited comments from Japanese Chief Cabinet Secretary Osamu Fujimura that Tokyo is not in a position to intervene, and the dispute "should be settled appropriately by the local governments of Nagoya and Nanjing".
An accompanying commentary to the People's Daily report criticised Mr Kawamura for lacking conscience and being naive, and says those who upset the Chinese people "must pay the price".
Bear bile is again in focus as the Fujian firm Guizhentang Pharmaceutical organised a media tour to their bear farm to show how bear bile is collected.
The Global Times and People's Daily say Guizhentang "failed to quell criticism of abuse", while China Daily says the company's directors still believe that their stock market listing application will eventually be approved.
Animal Asia Foundation - the NGO that voiced opposition to Guizhentang's listing - complained that the company had failed to honour an invitation for AAF's representative to visit the farm together with mainland Chinese journalists.
The AAF has decided to terminate all exchanges with Guizhentang, says the Beijing News.
Beijing News further questions in its editorial that whether ending bear bile extraction would actually harm mankind.
Another big story is the trademark dispute between Apple and Shenzhen's Proview as a lawsuit began in Shanghai.
Shanghai Morning Post says Proview showed evidence which it claimed proved Proview was manufacturing a product it called an iPad way before Apple did, while People's Daily says Apple produced proof that Proview sold the iPad trademark to Apple in June last year at a cost of £35,000.
China Daily says lawyers from both sides "were repeatedly admonished by the presiding judge and told to respect court protocol during arguments". The date for a verdict or a second hearing is yet to be set.
In other news, People's Daily reports the latest State Council meeting, in which the cabinet proposed measures to implement further medical reform.
The end of Vice-President Xi Jinping's visit to Turkey is also covered. Shanghai Morning Post says Mr Xi asked Turkey "to curb the East Turkestan separatist movement" of Xinjiang when he met Turkish Prime Minister Recep Tayyip Erdogan.
And as South Korean President Lee Myung-bak asked China to deal with North Korean refugees "in accordance with international rules", the Global Times accused Seoul of tackling the matter with "South Korean standards" instead of international standard.