China morning round-up: Outcry over 'love attack'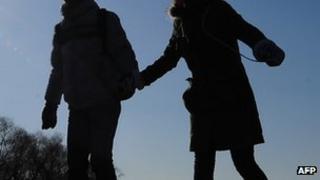 Newspapers across China have voiced outrage over the horrific attack on a 17-year-old girl by a teenage boy apparently sparked by his request for a date.
Zhou Yan, from Hefei, the provincial capital of Anhui, incurred second and third-degree burns to 30% of her body, particularly around her head, neck and chest, says the China Daily.
She was allegedly set on fire by 17-year-old Tao Rukun in the bedroom of her home last September. The incident only came to light last week when internet users published the story online.
According to Guangzhou's Southern Metropolis Daily, the incident caused outcry because of the boy's background - both of his parents are senior local government officials.
Its editorial says there is a common feeling that these "second generation officials" have no respect for the rule of law.
Beijing News' editorial appeals for an intervention mechanism to be set up by education authorities against what it calls "adolescent love violence".
People's Daily believes that the problem lies in Chinese parents' common mistake of focusing on rare success stories - such as pianist Lang Lang - who have undergone harsh childhoods.
The paper says in a commentary that parents should also work on their children's mental development, besides their academic achievements.
In the diplomatic field, Shanghai Morning Post carries multi-page coverage of the 40th anniversary of the Shanghai Communiqué between the US and China, which was signed during the visit of President Richard Nixon.
It also carries an interview with former US diplomat Nicholas Platt who oversaw the visit, which eventually led to Washington's decision to axe diplomatic ties with Taipei and recognise Beijing as the legitimate Chinese regime.
The Global Times publishes an interview with former US Secretary of State Henry Kissinger discussing how special the communiqué was, while a People's Daily commentary in its Overseas Edition says China-US relations are now "irreversible".
However as the Syrian government held a referendum on a new constitution, another commentary in the domestic edition of People's Daily accused Washington of slandering China and Russia for their role in vetoing a UN resolution on Syria.
The commentary says the US has no right to speak on behalf of Arabic people.
The Global Times' bilingual editorial further accused western countries of aiming to force President Bashar al-Assad out of power, no matter whether it is democratic or not.
In a second Chinese editorial, the Global Times mocked US President Barack Obama over the political deadlock on his health-care reform, saying while the US was still "wrangling" with the proposal, China was already implementing its own health-care reform.