China morning round-up: Wen Jiabao on military support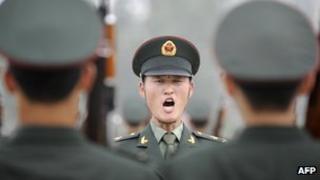 Chinese Premier Wen Jiabao has called for more co-ordination between military and economic development, national Chinese newspapers report on Tuesday.
Mr Wen urged more support for military development as well as better integration with the economy, technology and education, says the Xinhua News Agency report carried bythe People's Dailyand the others.
The premier also urged improvements to veterans' policies such as civil service jobs and vocational training.
Mr Wen made the remarks at a ceremony marking towns and cities with the best performance in implementing the "double support" policy - referring to unity between the army and residents, with President Hu Jintao also present.
Under the policy, China asks the military and local authorities to work together, raising the army's combat capacity and local productivity at the same time.
China Dailyleads with the meeting between Vice-Premier Li Keqiang and visiting World Bank President Robert Zoellick.
Mr Zoellick was hosting the releaseof a World Bank reportsaying China needed to embrace fundamental free-market reform if its economy was to continue to grow at its current pace.
The Global Times' bilingual editorialof the day focuses on this report, which it says "seems abrupt" for the bank to present the concept of a "high-income society" to the Chinese public.
"China should not take the concept of 'high-income society' and replace China's previous goal," says the editorial, referring to China's long-term goal of becoming a "well-off society".
With Mr Zoellick due to step down in a few months' time,People's Dailyspells out China's stance on how the next World Bank chief should be picked in a commentary.
The article opposes the "primogeniture" practised by the US and developed countries in Europe over the leadership of the World Bank and the International Monetary Fund. It also appeals for developing countries "to come to a consensus and push [reforms] together".
Shanghai Morning Postand many others reports on the launch of a series of activities "to learn the Spirit of Lei Feng", the Good Samaritan, by the Publicity Department of the Communist Party.
People's Dailyalso runs a dedicated commentary appealing to the people to make the Spirit of Lei Feng a spirit of citizenship.
In other news,Shanghai Dailyand Guangzhou's Southern Metropolis Daily report a man in northern Hebei province was sentenced to two years of re-education through labour for spreading rumours that a local military hospital had seen an outbreak of severe acute respiratory syndrome (Sars).
Re-education through labour is an administrative punishment implemented by the police that does not require a court trial.The Beijing Timesasks whether the punishment was too harsh.
Also featuring in theShanghai Dailyand Shanghai Morning Post is the municipality's decision to raise its minimum wage by 13% to 1,450 yuan ($230; £145) per month from April.
This will keep Shanghai's minimum wage the highest in China, reports say.