Two men held for stealing historic Chinese bridge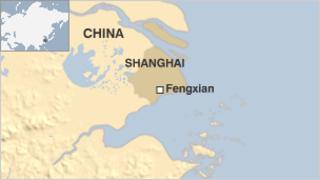 Two men have been arrested in China on suspicion of stealing a historic, century-old bridge, reports say.
The duo, identified only as Mr Hong and Mr Wang, are both from Anhui province.
They are being held on suspicion of cutting up and stealing the 17.5m-long Fengle bridge in Chenyi village in Fengxian district in Shanghai.
A villager found the bridge missing last November, with only two support structures left, said The Global Times.
"The two men confessed that they used two cranes and two trucks that night to lift and remove the 16 stone pieces that formed the floor of the bridge," the report quoted Ruan Jilong, deputy director of Jinhai police station in Fengxian district, as saying.
He said Mr Wang was paid 30,000 yuan ($4,700) by Mr Hong, a trader in building stones, to transport the bridge. The stones were taken to Suzhou, Jiangsu province, to be sold.
They were caught because a witness who saw men hanging around the bridge in September 2011 took down the license plate number of their truck.
Police then traced the number to the truck's owner, who told them that he had loaned the truck to the suspects.
Fengle Bridge, built in 1907, is registered as a historical relic, the Global Times report said, citing Zhang Weiwei, director of the Fengxian district museum.
He said the stolen bridge was one of around 20 old structures remaining in the area, which boasted more than 100 a century ago.