China morning round-up: Diplomatic rows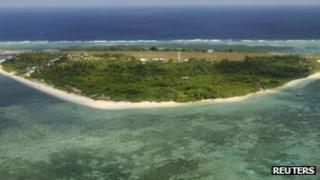 Ongoing diplomatic rows dominate coverage in the two major national newspapers on Wednesday.
China Dailycovers comments by the Foreign Ministry that reaffirmed China's "indisputable sovereignty over the Nansha Islands and adjacent waters and protested against the Philippines' plan to explore for oil and natural gas in the area of the South China Sea".
China is embroiled in territorial disputes with neighbouring countries - including the Philippines and Vietnam - over the Spratly Islands, which it refers to as the Nansha Islands.
"It is unlawful for any country or company to explore for oil and gas in sea areas under Chinese jurisdiction without the permission of the Chinese government," said Foreign Ministry spokesperson Hong Lei.
People's Daily, in a commentary, warns Manila that it should learn self-restraint.
At the same press briefing, Hong Lei also called on South Korea to respect China's "legal dignity" in the matter ofrepatriating North Korean refugees, the two papers say.
The Global Timessays Seoul claimed it had won US support over its protest on the repatriations, and described Hong Lei's comment as a reply to "South Korea's act of fanning speculation".
Meanwhile,in its bilingual editorial of the day, the Global Times says Beijing should ignore criticism from Western countries when putting together its annual defence budget.
"Without a formidable national defence, those irrational sentiments against China would worsen. Some might even turn into action," it says.
Also featured on the front pages ofChina Dailyand People's Daily is the meeting between Vice-President Xi Jinping and visiting Sudanese Foreign Minister Ali Ahmed Karti in Beijing.
At the meeting, Mr Xi urged the North and the newly independent South to settle differences and protect Chinese workers.
The Global Times' English editionis among the rare few reportingthe attack in Kashgar, Xinjiang, which left 12 people dead.
Hong Kong's Ming Pao Daily Newssuggests that the county of Yecheng - where the attack took place - is now under curfew.