China hits out at 'troublemaker' Manila in maritime row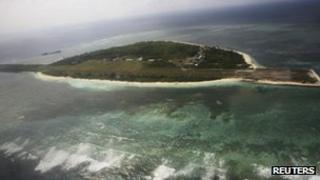 China and the Philippines are continuing to trade barbs amid a rumbling row over disputed areas in the South China Sea.
A China Daily editorial called Manila a "troublemaker" and criticised its move to allow oil and gas companies to bid for contracts in two offshore areas.
Both countries claim sovereignty over the areas in the South China Sea.
The exchange began after Manila said on Monday that it would start awarding exploration contracts next month.
The territorial dispute in the South China Sea between China and the Philippines has been going on for decades.
But the exchange of words between the two countries spiked after the Philippines' announcement that two offshore areas 49 miles (79km) off Palawan were to be included in the bid for oil and gas licences.
China states its "indisputable sovereignty" in the China Daily editorial, warning that the Philippines "should assume direct responsibility for the fresh flare up of the South China Sea issue".
Earlier this week, China's Foreign Ministry spokesman Hong Lei also said that it was "unlawful for any country or company to explore oil and gas in areas under Chinese jurisdiction".
But the Philippines insists it does not need China's permission.
Philippine Foreign Secretary Albert del Rosario said the oil and gas contracts off Palawan did not need Beijing's approval and that under the United Nations Convention on the Law of the Sea (UNCLOS), the area was "well within our sovereignty".
Last year, the Philippines claimed that China had repeatedly intruded into its territorial waters in relation to oil exploration in a separate area near Palawan.
China is engaged in multiple territorial disputes in the South China Sea with its neighbours, including Vietnam and Malaysia.
Vietnam this week lodged a protest with China after 11 fishermen were reportedly assaulted by Chinese forces in a disputed area on 22 February after they reportedly tried to avoid a storm.