China morning round-up: Ministers in the spotlight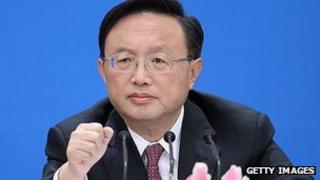 Two ministers' comments on the sidelines of the annual parliament session have attracted most attention in Wednesday's newspapers.
China Dailyleads with the comments made by Foreign Minister Yang Jiechi as he met the press in Beijing, where he said the US had to respect China's interests in the Asia-Pacific region.
The Global Times' English editionsees Mr Yang's words as a warning to Washington in light of the South China Sea issue.
Shanghai Dailyfocuses on Mr Yang's repeated warnings that Beijing opposed Iran's possession of nuclear weapons, while maintaining Tehran had the right to "peaceful nuclear power".
Beijing Newspicks up a quote from the foreign minister which says: "We do not belittle ourselves, but we do not like to be a master to others, either."
Focusing on Mr Yang's comments, theChina Daily's editorialsays: "China's peace-loving nature dictates that the country always supports peaceful options whenever a crisis crops up to threaten regional or world peace and development."
A full transcriptof Mr Yang's meet-the-press session is published by the People's Daily.
Regional papers lead with the other press conference given by Xie Xuren, the finance minister.
Beijing Timesand most other papers pay most of their attention to Mr Xie's announcement that China will seek to extend its property tax trials in Shanghai and Chongqing to more cities.
Shanghai Morning Postreports that some parliamentary delegates agree on the need for a property tax across the country, since China's recent housing prices "are not reasonable enough".
Guangzhou's 21st Century Business Heraldsays in its editorial that China should take the chance to make the implementation of property tax policy part of the whole national taxation reform, in order to achieve "structural tax reduction".
Its sister paper -Southern Metropolis Daily- further says in its editorial that China should build up its mechanisms to make sure that public funding can truly benefit the general public.
Beijing Timesand others also report on a heated debate on how government officials could spend less on duty trips, purchasing departmental motor vehicles and hospitality.
A vice-chairman of the CPPCC said that China could save "hundreds of billions of yuan a year" if there were cuts to this public spending by officials.
Beijing Newssays in its editorial that the government will be able to halt the waste of public money "to solve more problems faced in people's livelihoods".
Apart from news from the Great Hall of the People,People's Dailyreports on the top right-hand corner of its front page that President Hu Jintao had a telephone conversation with Russian President-elect Vladimir Putin.
China Daily'sanalysis suggests that Mr Putin's foreign policies will tilt "towards economically robust Asia and strengthening the country's partnership with China".