China morning round-up: Beijing's trade warning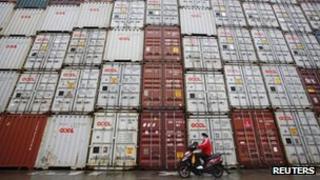 Thursday's newspapers cover the comments on the US-China trade row made by Commerce Minister Chen Deming on the sidelines of the annual parliament session.
"The US always likes to point a finger at China and say 'China is not abiding by the rules' when its own economy is encountering problems," Mr Chen said,quoted by the China Daily.
His comments followedthe US House of Representatives votewhich upheld Washington's ability to impose duties on subsidised goods from China and Vietnam.
Quoted bythe Global Times' English edition, Mr Chen also said: "China... [does] not have the obligation to abide by any country's domestic laws and regulations that are not in line with international rules."
People's Dailyreports that the commerce minister also talked about the benefits of cross-strait trade with Taiwan and China's effort in combating copyright violations.
Beijing Newsfocused on Mr Chen's comments on China's "huge" financial loses in Libya during the military conflict last year.
English newspapers including theChina DailyandShanghai Dailyalso covercomments on recent self-immolation incidentsin ethnic Tibetan regions.
Comments of condemnation were made by Padma Choling, chairman of the Tibet Autonomous Region, and Wu Zegang, deputy Communist Party secretary of Sichuan's Aba prefecture - where many of the self-immolations have taken place.
China DailyandGuangzhou's Southern Metropolis Dailyalso picked up strong words from Zhang Chunxian, Communist Party secretary of Xinjiang.
Mr Zhang said recent violence in the ethnic Uighur region had nothing to do with religion or race issues, and the regional government would show no mercy to terrorism acts.
"Their acts are against the human race," Mr Zhang said.
Also on Thursday,People's Dailyruns a long front page report on President Hu Jintao and the other state leaders' participation, with a picture showing the president shaking hands with female congress deputies from ethnic minorities.
And as Thursday is International Women's Day, the paper also reports onwomen deputies' callfor more women to be given parliamentary posts.
Southern Metropolis Dailyis also making its contribution to mark the day with an account of 33 senior female government officials.
The Global Timestakes the chance to revisit the 17-year-old Anhui girl who was burnt badly by a boy who had a crush on her, as she arrived in Beijing to receive specialist treatment.