China morning round-up: Law on secret detentions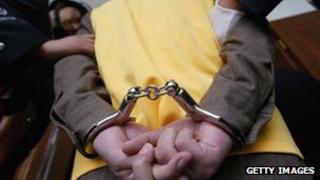 Friday's newspapers give extensive coverage to the proposed amendment to the country's Criminal Procedure Law at the ongoing National People's Congress (NPC).
China Dailyand People's Daily Overseas Edition say that the proposed amendment is significant for writing in the principle of "respecting and safeguarding human rights".
The proposalrequires the police to inform the suspect's family within 24 hours "after arrest and surveillance".
However, suspects accused of subversion and other security charges can still be detained without their families being informed.
In response to concerns over powers to detain dissidents and activists in secret, the legislature said there was no secret detention in China.
The comment came from Lang Sheng, deputy director of the Legislative Affairs Commission of the NPC Standing Committee,reports the People's Daily.
The Global Timesalso praised the bill as an "overhaul" of the Criminal Procedure Law, and hailed it as a "mini political reform".
Another NPC sideline wasthe absence of Politburo member Bo Xilaifrom Thursday's plenary session, which led to much speculation on whether it indicated his political career was in trouble after his Chongqing deputy Wang Lijun's mysterious disappearance.
ButSing Tao Dailyand other Hong Kong newspapers report that footage of Bo Xilai attending a Chongqing delegation panel discussion was broadcast on the evening national news bulletin on China Central Television (CCTV).
In other news,the Global Timesreports comments made by the US Secretary of State Hillary Clinton that there is "no contradiction" between a rising China and the interests of the US, but called on Beijing to show that in "concrete ways" to the world.
The paper's Chinese edition, citing a French website comment, laughed at Mrs Clinton's comments, saying Washington's position on China today was far away from the clear stance of Richard Nixon.
China Dailyreports on theForbes annual rich list, with a focus on Robin Li, founder of Chinese search engine giant Baidu, being the richest mainland Chinese. Hong Kong's Li Ka-shing remains the richest Asian.
And the Apple fever keeps going on in China after the US technology giant launchedthe new iPad.
But according to theGlobal Times' English editionandShanghai Morning Post, the Shenzhen firm Proview - which is still in a legal battle with Apple over the use of iPad as a trademark - is angry.
Proview's lawyer has described Apple's decision to call the new product simply an iPad "provocative", reports say, and the firm has released an open letter threatening to sue firm who sell or ship the iPad product.
In Hong Kong,the Standardsays people are rejoicing as the "tech-crazed Hong Kongers will be among the first in the world to get their hands on the new iPad".
"The early arrival could affect the local parallel import market but exporters are rubbing their hands in glee," it says.