China morning round-up: Supreme Court annual report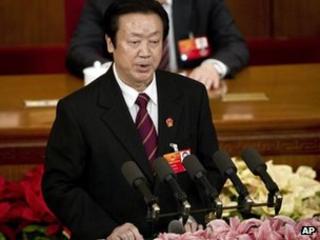 Newspapers across China are discussing the annual reports by the president of the Supreme Court and procurator-general that were delivered during the ongoing parliament sessions in Beijing.
China Dailypicks up one of the points made in the procurator-general's report, that seven ministerial-level officials were investigated for corruption in 2011.
Chinese prosecutors have also taken a hard stance on civil servants who abuse their power for personal gains or take bribes, said Procurator-General Cao Jianming.
In the report of the Supreme Court president, Wang Shengjun claims that the push for an innovation-based economy and growing public awareness has resulted in an increase in the number of lawsuits involving intellectual property rights,reports China Daily.
The People's Dailyalso quotes the chief justice as saying that nearly all the defendants in various court cases last year have obeyed the courts' verdicts, which the newspaper claims show that justice is served in China.
Guangzhou's Southern Metropolis Dailypicked up another point from the chief justice's report, stating that petitions received by Chinese courts fell by 26% last year.
The report also promised to pay more attention to public opinion after a series of sentences involving criminal cases sparked public outcry last year, according to theBeijing Times.
But Hong Kong'sMing Pao Daily Newssays the chief justice's comment was met with criticism for not upholding judicial independence.
Theamendment law on criminal procedureis still being discussed, withChina Dailyreporting that officials believe the revision can give greater protection to suspects.Beijing Newsreports that the amendment is due to take effect in 2013.
Southern Metropolis Dailysays the bill has been further revised to include changes in the right of a detainee's relatives to appoint a defence lawyer, and restrictions on multiple remand of cases.
And after a delegate made complaints that there are too many officials in the Chinese government,Beijing Newssays in its editorial that Beijing should limit its legislation functions.
In other news, theGlobal Times reportsthat some Nepalese are questioning a government move to award a major hydro power project to a Chinese firm, alleging violations in the tender process.
Shanghai Dailyreports that the city issued its first heavy air pollution warning on Sunday since the monitoring of PM2.5 particles was introduced.
As such, authorities have advised people with heart problems and respiratory diseases to stay indoors.
And with people in China becoming increasingly concerned about air quality, a new mobile phone claiming to have the capacity to measure PM2.5 levels will be launched soon,says the People's Daily.