China morning round-up: Central bank governor speaks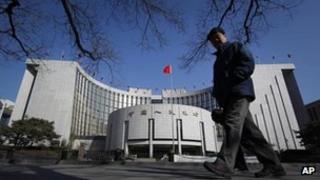 Newspapers in China on Tuesday focused on comments made by the central bank governor and his deputies on the sidelines of the annual parliament session.
China Dailycovered the comment made by Yi Gang, vice-governor of the People's Bank of China and head of the State Administration of Foreign Exchange.
Mr Yi said China is confident that Europe would overcome its problems, and that Beijing will continue to invest part of its foreign exchange reserves in European bonds.
In comparison,Shanghai Dailyand other newspapers focused more on what the governor himself has said.
"There is a lot of room for reserve requirement cuts," Governor Zhou Xiaochuan told journalists, "but we need to look at whether it's necessary, and look at market liquidity."
The bank reserve ratio, set by the central bank, determines how much money a bank can lend the public. Cutting reserve requirements implies an increase of lendable funds in banks.
The report inBeijing Newsalso mentioned Mr Zhou's comments on the private lending crisis in the eastern city of Wenzhou in Zhejiang province, which has a reputation for entrepreneurship.
Mr Zhou reiterated that private lending "cannot develop into deposit-taking from the public", and warned that those who choose to borrow money from loan sharks have no legal protection.
The crisis in Wenzhou has been dubbed as "China's credit crunch", with many company bosses reportedly fleeing the city because they cannot repay their loans.
The central bank also promised to ensure mortgages for first-time home buyers, reported theShanghai Morning Post.
By tightening bank reserve ratios early last year, one of China's aims was to curb inflation and heated property market speculation, but it also resulted in banks' reluctance to lend.
In other news, theGlobal Timesheavily covered a renewed diplomatic spat between South Korea and China over the disputed Socotra Rock.
Known as Suyan Rock in China and Ieodo in South Korea, it lies within the overlapping exclusive economic zones of the two countries in the East China Sea.
Like many previous rows, the Global Times again accused South Korean media of stirring things up on the matter.
An international relations expertquoted by the paper said that bilateral "disgust" between the two nations is deeply rooted, and is something that would not change in the next 200 years.
An editorialin the Global Times's Chinese edition said that Seoul should not act like a spoiled child who keeps asking China to follow what he says.
The Global Times also ran abilingual editorialon the incident involving an American soldier accused of murdering 16 civiliansin Afghanistan.
"The US military is not all powerful," said the editorial, "it should curb its impulse to solve problems with muscle. There are issues that are out of its reach. Accepting the diversity of the world, including a few countries and people not obeying its will, will ensure a calmer path ahead for the US."
The Chinese papers also devoted space to the country's own military development.
People's Dailyon its front page covered the army delegates' panel meeting at the parliament, which was attended by President Hu Jintao and Vice-President Xi Jinping.
Dressed in army uniform, Mr Hu urged military excellence to be maintained ahead of the party conference later this year. This is when Mr Xi is expected to be picked as Mr Hu's successor.
Beijing News, on the other hand, chose to publish a commentary on the high-speed railway incidentin Hubei, expressing strong doubts on how the railway company could brand repair work as "normal reinforcement", even as the official Xinhua news agency already confirmed the collapse of part of its embankment.