China morning round-up: Economic reform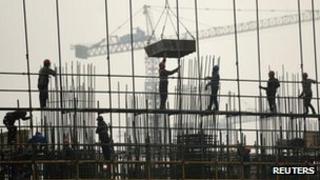 Chinese newspapers on Monday are focusing on a high profile economic forum that took place on Sunday.
"China has entered a crucial stage in shifting its economic model and cannot be delayed. Reforms have entered a key stage," said Chinese Vice-Premier Li Keqiang at the forum, quoted by theChina DailyandShanghai Morning Post.
People's Daily Overseas Editionpaid more attention to what the foreign guests have said at the forum, with its headline saying that China's economy will not be facing a hard landing.
At the same forum, Christine Lagarde, head of the International Monetary Fund (IMF), said that China must stop its economy being too dependent on exports and investment.
China Dailysaid Chen Deming, Chinese Commerce Minister, speaking on trade, "reminded" the US to review its restrictions on hi-tech exports to China, and called for the further opening of its economy to Chinese enterprises and investors.
People's Dailywarned Washington in a commentary that "trade protectionism will not be able to save the motor industry of the US", and it will end up harming the "mutual benefit" of both peoples.
Staying on economic news, national papers also reported on new statistics that showfurther decline in China's property prices.
China Dailysaid that one-third of China's 70 key cities have seen their home prices fall in February.The Global Timessaid, however, that the pace has slowed down.
Shanghai Morning Postquestioned whether the slowing trend implies a recovery in the property market, whilePeople's Dailysaid the Chinese government will continue with its efforts to curb the housing price hike.
Also published on theChina Dailyand People's Daily on Monday are reports on Premier Wen Jiabao's visit to central Henan province, where he inspected the country's agriculture production.
Beijing Newssaid Mr Wen has made a promise to farmers that state subsidy will be offered if there are any fuel price hikes.
North Korea's announcementof an upcoming satellite launch is still being discussed, withChina Youth Dailysaying that the Obama government has been deeply embarrassed by Pyongyang's move.
The Global Times commented on China's dilemmain its bilingual editorial, saying that "Seoul, Tokyo and Washington are hoping China (will) exert more pressure on North Korea''.
''They are counting on the fact that China can eventually bring Pyongyang to its knees. But it's a flawed logic. China should distance itself from the policy these three countries insist on."
Newspapers in Hong Kong are still discussing the aftermath of Beijing's removal of Chongqing Party Secretary Bo Xilai.
Ming Pao Daily Newssaid Beijing has stepped up monitoring on Chongqing officials to prevent any of them from "fleeing", as the paper suspected that some other senior officials of the municipality have already been investigated for possible wrongdoings.
Sing Tao Dailysaid Chongqing's People's Square has put up a notice that warns people off from holding public singing assemblies.
People's Square has been a major venue where sessions were held to sing "red songs" - songs that promote leftist revolutionary ideas of the Communist Party - that are promoted during Bo Xilai's rule.