Four held in China as police 'abandon' injured student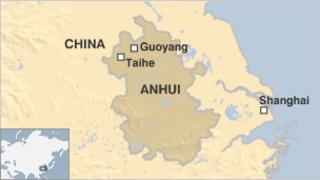 Four officials have been detained for allegedly abandoning an 18-year-old woman who had been seriously assaulted in China's Anhui province.
The incident has sparked an outcry as it emerged police in Guoyang, where the incident took place, believed her to be a dead homeless person.
The student was later abandoned in a ditch by social welfare officers.
She has since been taken to hospital. Officials say her life is no longer in danger.
It is unclear who attacked her and why. Local reports say that she was on her way home from school when she was attacked.
Police in the township of Gaogong has received reports on the evening of 12 March that a woman was spotted in a river vane, prosecutors in Guoyang say.
Local media say police went to the scene where they took pictures of the student believe her to be a homeless, but did not call an ambulance.
They later asked an officer from the local civil affairs office to take the "dead body" away for cremation but, for reasons yet to emerge, the officer drove her to nearby Taihe county and abandoned her, reports say.
Four officials have been detained for suspected dereliction of duty and local media reports say this includes the head of the police station.
Internet users and media commentaries have expressed their shock at the incident.