China morning round-up: Trade row with the US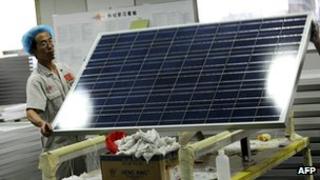 Thursday's national Chinese newspapers reflect official discontent about the latest round of US trade sanctions against China.
Washington imposed dutieson Chinese solar panel manufacturerson Tuesday after it said that they received unfair subsidies. Two other sanctions were also announced.
People's Daily says -in its domestic edition- that this is an act that harms both US and Chinese interests, and Chinese firms will use "the weapon of law" to "defend their legitimate rights resolutely".
Its overseas editionclaims that many US firms have also voiced their opposition publicly.A front page commentarycriticises Washington for making Chinese industries "scapegoats of US politics" as the presidential election is approaching.
BothShanghai DailyandChina Dailysays that Washington's duties will harm US industries, especially the green energy sector.
Meanwhile,China Daily also saysBeijing's foreign ministry has welcomed Washington's decision to grant approval for 46 high-tech items requested by Beijing to enter the Chinese market.
Also on trade sanctions,the domestic edition of People's Dailylashes out atWashington's announcementthat Japan and 10 European Union nations will be exempted from the US trade sanctions on Iranian oil.
The commentary says Washington is "opinionated" in putting its own sanctions on top of other countries, which is itself "ridiculous".
The Global Times goes one step furtherin its bilingual editorial.
"There are many resources China can adopt to counter US sanctions and seriously undermine the US economy," it says. "If friction escalates above sanctions, there is no reason to panic. There are many factors in the world that see the US needing China's help."
In domestic news,China Dailyand People's Daily report on Vice Premier Li Keqiang's appeal for a "swift push" in the country's South-North Water Diversion Project to support the country's sustainable development.
The two papers also report on thelatest cabinet meetingchaired by Premier Wen Jiabao, which stressed that safety and quality are the top priorities in the construction of China's national transport grid.
Shanghai Dailyand Beijing News also reports on the latest instructions from the Justice Ministry that requires lawyers in Chinato swear allegiance to the ruling Communist Partyfor the first time.